Featured:
Double layer absorbent core is specially designed core, has higher concentration of super absorbent gel with fluff at the core center to enhance dryness and comfort.
Non woven top layer with Acquisition Distribution Layer enables fluids to distribute and transfer faster to the absorbent panel without flow back and gives longer lasting comfort and dryness.
Wetness indicators to let you know when diaper has reached maximum capability.
Refastenable Tape-Tab system with printed tape zone allows multiple adjustmens without losing adhesive strength or compromising diaper integrity.
Standing cuff guards allow for better fit and prevents leakage.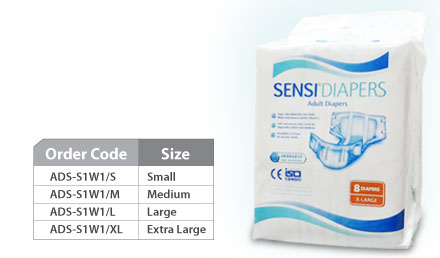 Arista's line of adult diapers are a high quality incontinence product.
The super absorbent dry core locks fluids and ensures surface dryness, and the soft, non woven outer cover provides improved comfort and modesty, Arista's adult diapers are available in S,M and XL for all your needs.